Project A3
The influence of mitochondrial lymphocyte metabolism on the onset of rheumatoid arthritis
The mechanisms controlling the progression of rheumatoid arthritis (RA) from early presymptomatic autoimmune stages to full-blown inflammatory disease remain enigmatic. In the past funding period, we have shown that small endogenous metabolites such as acetate, as well as energetic reprogramming, critically influence T cell action and RA development. Although energetic reprogramming and metabolic dysfunction of T and B cells are likely to influence both the disruption of tolerance and the onset of inflammation, the underlying mechanisms are not yet fully understood, mainly because appropriate technologies are lacking. Therefore, in the proposed project, we aim to investigate the checkpoints that control the metabolic reprogramming of T and B cells in the preclinical phase of RA using novel methods that will allow us to study their specific contribution to RA onset. To this end, we will employ novel technologies that enable high-throughput assessment of metabolism in single cells. A particular focus will be on metabolic changes in B and T cells in the earliest stages of experimental arthritis in mice and rheumatoid arthritis in humans. Following these experiments, we will determine whether and how mitochondrial dysfunction controls the metabolic function of T and B cells during the transition from the presymptomatic to the inflammatory phase of arthritis. To achieve this goal, we will induce specific mitochondrial dysfunction in T and B cells and observe how this affects disease progression. In summary, this project will provide a translational approach that defines early changes in the metabolism of activated adaptive immune cells in arthritis and look for new opportunities for early preventive intervention in disease progression.
2019-2022 (1st funding period): Immune regulatory properties of alcohol consumption in the development of arthritis
Epidemiological data show that alcohol consumption protects against the onset of rheumatoid arthritis (RA). Animal models also demonstrate that alcohol (EtOH) exposure significantly reduces the incidence of experimental autoimmune diseases such as collagen-induced arthritis (CIA) or experimental autoimmune encephalomyelitis (EAE), a multiple sclerosis mouse model.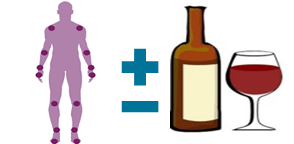 Our preliminary data suggest that EtOH inhibits interleukin 21 production by follicular T helper cells (Tfh) in the B cell germinal center and thus the affinity maturation of autoantibodies. Degradation products of EtOH such as the short-chain fatty acid acetate, which is physiologically secreted by intestinal microbiota after fermentation of fiber, appear to mediate this effect of EtOH on Tfh. In our project, the molecular mechanisms underlying the immunomodulatory effect of EtOH and its metabolite acetate are to be decrypted and the significance for human RA to be investigated.
Principal Investigators
Department of Medicine 3
Division of Immunolgy (Prof. Dr. Jäck)

Direktor der Med. Klinik 3 (Rheumatologie und Immunologie)
Department of Medicine 3
Chair of Medicine III (Prof. Dr. Schett)

Doctoral researcher
Medicine III
Division of Immunology (Prof. Dr. Jäck)