Project A4
Impact of IgA and IgG ACPA on the immune system and disease onset
In the first funding period, we discovered that IgA2 has a stronger pro-inflammatory capacity than IgA1 and that ACPA (anti citrullinated protein antibodies) display a higher IgA2 percentage compared to total serum IgA. The IgA2 percentage in ACPA correlated with disease severity of RA patients with established disease and with relapse severity after remission. Interestingly, serum ACPA levels of IgA and IgG isotype decline around onset of RA which may be a sign of increased transmigration of ACPA from the serum to affected tissue, such as the synovium. In a model of submaximal collagen-induced arthritis (CIA), co-immunization against citrullinated vimentin increased the incidence and disease severity, suggesting that ACPA directly contribute to the outbreak of arthritis. For the second funding period, we thus aim to further investigate the impact of IgA and IgG ACPA on the clinical onset of RA. We aim to investigate the effects of (auto)immunity against citrullinated proteins on the adaptive and innate immune system as well as synovitis employing the murine model of submaximal CIA. In addition, we will analyze spatial and temporal changes in the expression of ACPA antigens in the synovial tissue around the onset of arthritis. The results will be translated to patients with different stages of pre-RA and established RA.
2019-2022 (1st funding period): The role of IgA in the pathogenesis of RA
While the impact of IgG autoantibodies on the development of rheumatoid arthritis (RA) has been intensively studied, the role of IgA autoantibodies is still less well defined.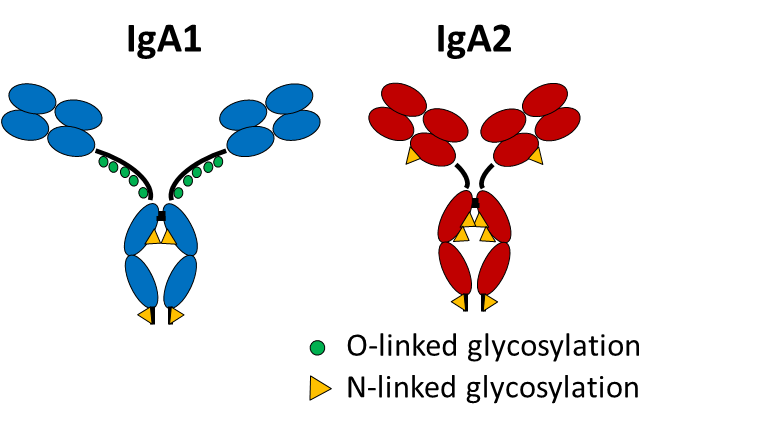 In this project we aim to disentangle the role of IgA in RA focusing on differential actions of IgA subclasses A1 and A2.
Our preliminary data reveal an increased IgA2 to IgA1 ratio in autoantibodies in the sera of patients with RA that correlate with disease activity. IgA2 but not IgA1 from human serum exerts pro-inflammatory effects on macrophages and neutrophils. Taken together the data suggest that RA is characterized by a shift from immune-regulatory IgA1 to pro-inflammatory IgA2, with IgA2 being enriched in RA-specific autoantibodies. The aim of this project is to dissect the role of autoantibodies of the IgA subclasses in RA, with a special focus on the role of the IgA2 subclass in the transition from autoimmunity to inflammation.
Principal Investigator
Department of Medicine 3
Chair of Medicine III (Prof. Dr. Schett)

Doctoral researcher
Department of Medicine 3
Chair of Medicine III (Prof. Dr. Schett)

Doctoral researcher 1st funding period
Department of Medicine 3
Chair of Medicine III (Prof. Dr. Schett)